Sign Submittal Checklist Wall Mural, Blade Signs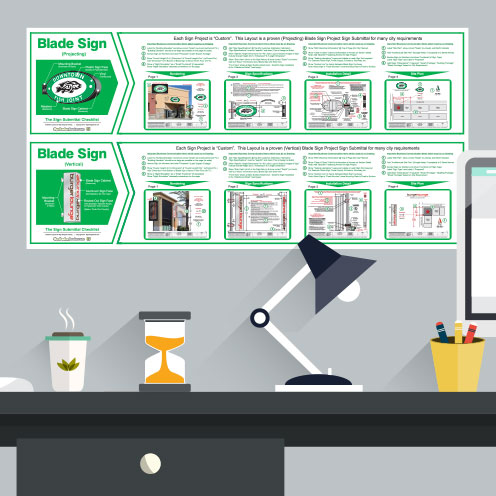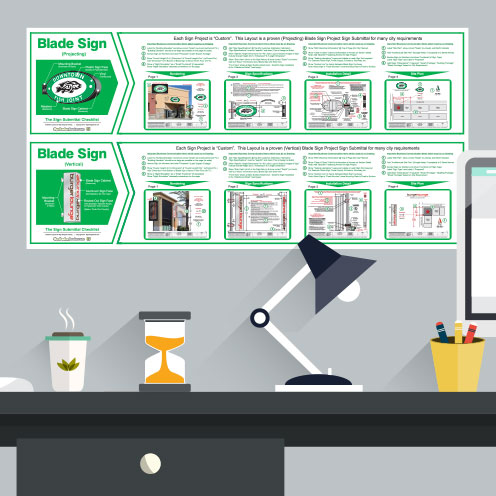 Sign Submittal Checklist Wall Mural, Blade Signs
Includes: PDF Digital Product: 24"H x 48"W Large Wall Mural
by: SignDesignBooks.com
Copyright 2015, First Edition
ISBN: n/a
Optional: Wall Murals are recommended to be printed (to size)
The Sign Submittal Checklist is the only instructional training aide of its kind in the sign business that allows a graphic designer a quick glance of required checklist items, information, and images which must be included in a Sign Submittal. This is the only fast-track learning tool for every graphic designer who has experience and for those who are still learning. This digital product gives your sign company a competitive advantage.
In business, time is money. Reduce wasted time with The Sign Submittal Checklist
About the Contents
Wall Murals, 24"H x 48"W, Horizontal
The Wall Mural was created as a solution for a sign company that would like a quick-glance to view everyday.
It is recommended to print this Wall Mural at 24"H x 48"W. To print larger, Wall Mural must be resized.